Outdoor Consumers are Dreaming About Spending Their IRS Refunds
It's tax season, and many outdoor recreation participants expect a refund from the IRS. The IRS reports that the average refund in 2023 will be $3,140, enough to pay for things like a new bike, next year's ski pass, camping gear, or a solar generator. Right now, while consumers wait for refunds to arrive, they are thinking about how to use them. Research in neuropsychology reveals that we experience powerful emotions when thinking about future events. This period of anticipation—when people dream about experiences they plan to have—is the perfect time to market outdoor experiences and the products associated with them, like riding a new bike on an epic trip to Moab (and all of the micro-experiences related to biking) or just hiking local trails in new boots. This is the period in which marketing is most effective because it can help consumers weave their desire for experiences into purchases of products that will enhance that experience. Outdoor consumers expecting tax refunds are dreaming right now, so tap into it and help them do more than simply imagine the experiences your products can unleash.  
Outdoor Consumers Care about Brands' Social Stances
The risks of taking stands on social issues include lost customers, damage to brand image, and reduced sales. On the flip side, more than half of outdoor consumers say that they do care about brands' stances on social issues. Currently, identity politics is having an impact across the market, and this creates dangerous waters for many outdoor brands. Social Identity Theory was originally developed to explore the psychological basis of intergroup discrimination. Tajfel et al. (1971) attempted to identify minimum conditions that would lead members of one group to discriminate for the in-group to which they belonged and against another out-group. The most striking example is the current divide driven by the concept of being "woke." Lists of woke brands are circulated by both pro and con groups signaling whether members should buy more of or "cancel" the brand. These campaigns tend to be started and amplified by the fringes that have strong feelings or gain politically by filtering everything through their identity filter. The data indicate a more reasoned response from most consumers.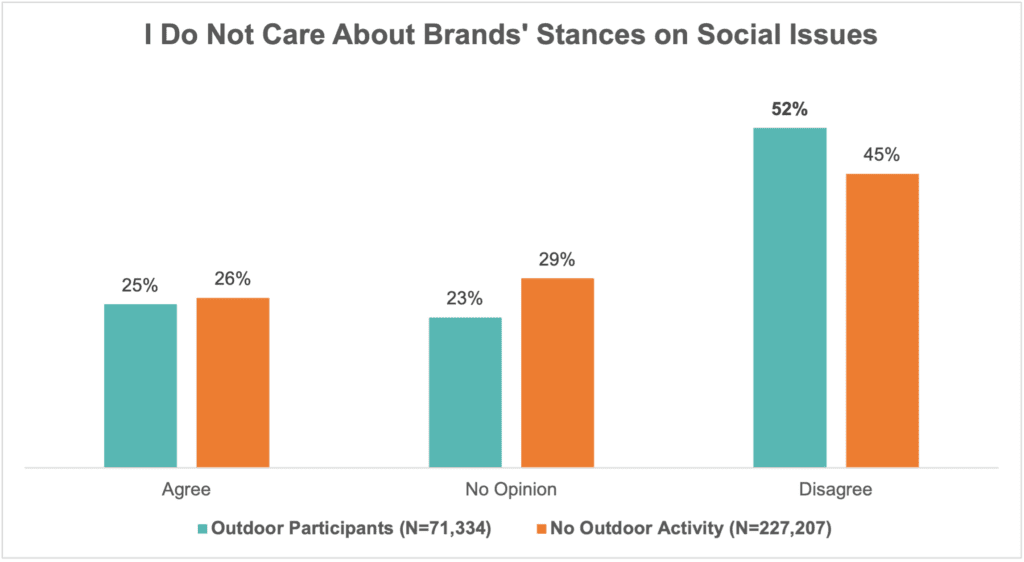 A deeper dive reveals that while these consumers care about a brand's stance, they don't always think brands should take positions on social or political issues. In today's environment, that may be unavoidable. Only one-third of outdoor consumers asked said that brands should NEVER take a stand on social or political issues. While consumers expect brands to have some kind of stance on social and political issues, they don't want the brands to be reactive. Brands may consider communicating core values that describe the fundamental beliefs and priorities of the brand. For example, a brand could talk about sustainability and climate as core values and choose not to comment on a devastating hurricane.  
ChatGPT is a useful tool for outdoor brands
Recently, ChatGPT has been getting a lot attention, but what is it, and what can it do? ChatGPT is a prototype artificial intelligence chatbot developed by OpenAI, which specializes in dialogue/chat. It can write product descriptions, help you write a business plan, describe consumer segments (you have to come with data), and even help with financials. 
I couldn't help trying it out. Here is a sample of the questions asked and the AI-generated answers: 
Question/direction:  Can you define hiking?   
ChatGPT answer:  
"Hiking is a form of outdoor activity that involves walking or trekking through natural environments, such as mountains, forests, or trails. It is often done for leisure, exercise, or to explore and appreciate the beauty of the outdoors. Hiking can range from short, easy walks on well-defined trails to longer, more challenging hikes on rugged terrain and can be done alone or with a group. Hiking often involves some degree of physical exertion but can be enjoyed by people of all ages and fitness levels." 
Question/direction: Write a business plan for heated ski poles.   
ChatGPT response:  
Sample from the Executive Summary: 
"At Heated Ski Poles, Inc., our goal is to provide skiers with the ultimate skiing experience. Our innovative heated ski poles will keep skiers' hands warm and comfortable throughout the day, allowing them to enjoy their time on the slopes without being hindered by cold fingers. Our poles will be made of high-quality materials and feature state-of-the-art heating technology. We will offer a range of heated ski poles in different sizes and styles to accommodate the needs of all skiers." 
This tool is a glimpse into the future of search, supercharged by machine learning and ultimately by AI. This technology has vast implications for the future of access to information. This could shake up the service economy, including financial services, logistics, supply chain management, market research, technical writing services, coding and computer programming, and many others. ChatGPT can write code, mathematical formulae, and even poetry.  
Trend Spotter: "Core"
According to the online news site Fashionista, new "core" aesthetics are showing up daily in TikTok feeds, including the previously covered "Cottage Core" and "Gorpcore" trends. Fashionista made a list that includes descriptions of each aesthetic, starting with the original "normcore," coined to describe a unisex fashion trend in 2014 by millennials at K-Hole marketing. The point isn't the aesthetics but rather the influence of Gen Z, in particular, and also language on how we describe aesthetics. Core is part of that trend, including:  
Darkcore

aesthetic

Balletcore

 

Cottage core

 

Barbiecore

 

Vacation core